Sun® Autoclave Sterilizer 23L-III Vacuum Steam with Open-type Tank
Product character:
1. Based on the new class B, have 3 pulsating vacuum, Vacuum up to -090 KPA. Residual humidity is <0.2. Suitable to sterilizing wrap, unwrap, solid, porous, hollow device.
2. Use imported & advanced 16-bit microprocessor, easy to operate. Most suitable for the Dept of Stomatology, Ophthalmology, Surgery and Lab.
3. With B&D test and vacuum test procedures. To test the penetrability.
4. Chamber punched by Stainless Steel(thickness:2.5mm), together with the jet type of steam generator, ensure the efficient sterilizing.
5. With alarm system for waste tank, avoid the waste water to enter into the sterilizing circulation, make the sterilizing completely.
6. Precise LCD display and advanced self-test system ensure you get the working data freely.
7. Double lock door system for safety during operation.
8. The new design of water tank is on the top, easy to clean.
9. Inbuilt mini-printer to record the process of sterilizing.
Specifications:
1. Power: 220V±22V, 50Hz±1Hz; 110V±11V, 60Hz±1Hz
2. Tank Capacity: 23L
3. Appearance Size:480x630x420mm
4. Inside Dimension: 245X465mm
5. Outside Dimension: 740x580x520mm
6. Gross weight: 50kg
Attention:
1. The autoclave must be placed on the horizontal working base.
2. Must use the distilled water for the purpose of lasting the working life.
3. There shall be no clog to the air cooling window on the outer surface.
4. The object apparatus to be sterilized shall be placed on the device plate with enough clearance retained in favor of the air circulation inside the sterilizing room.
5. Empty the water inside the cooling water collecting tank frequently. Usually, the cooling water collecting tank shall be emptied once the water storing tank emptied.
6. Must revolve the door handle to the terminal side while working.
7. Don't open the door of autoclave when seeing the "0" displayed on the pressure indicator.
8. Not be too closed to the door of the autoclave in case of scald when open the door.
9. Shut off the power before discharging/installing the sealing ring, and the work shall be carried out after further sufficient cooling in case of scald.
10. Don't drag or drop the autoclave during relocation period of the autoclave.
11. The protecting ground shall be reliable.
12. Equipment must be used away from the magnetic field.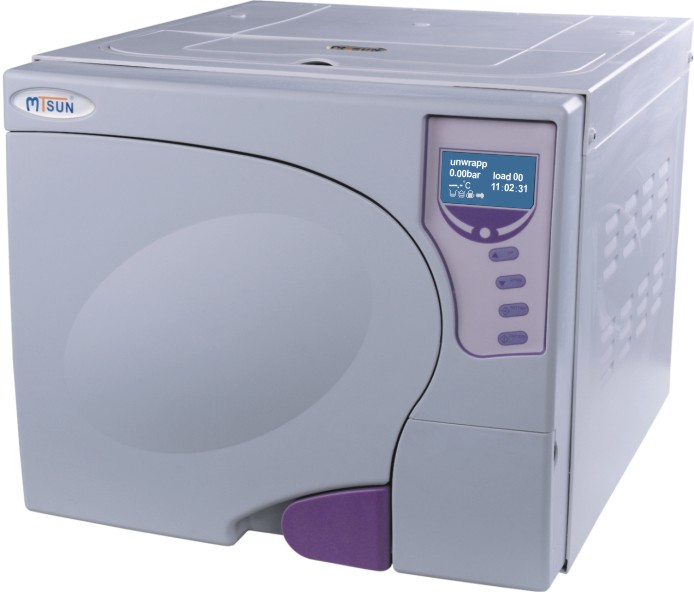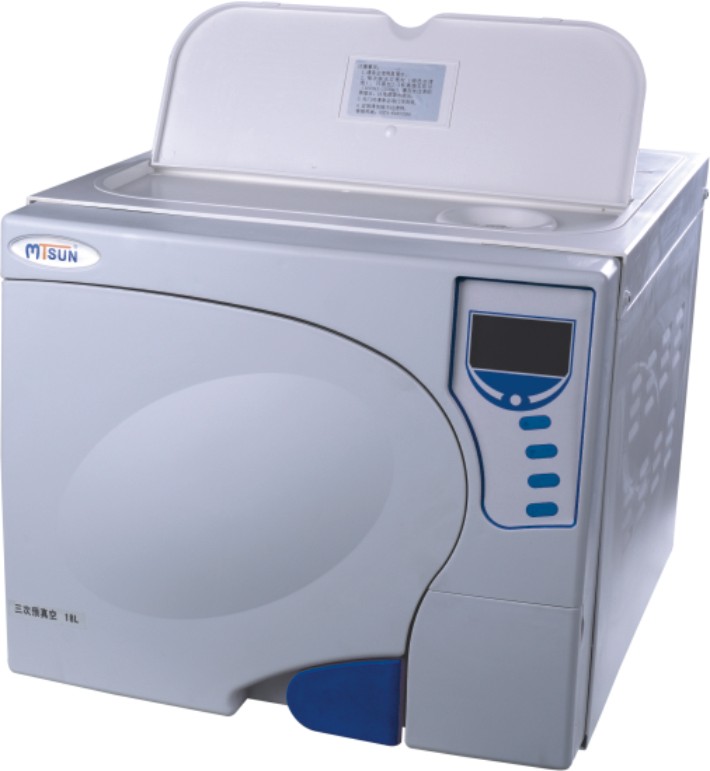 Looking for more
dental equipment
at dentalget.com