Features:
1. J2's neck is 9.1MM, which design allows the handpiece to easily reach any treatment area of the mouth, and provide a clear vision for the treatment area to improve the efficiency of treatment.
2. The clean head system be built-in turbine head is to prevent the pressure changes caused by blood, viruses and so on into the handpiece through the head of the device when stop working. At the same time, no foreign body into the bearing, which can asubstantial increase the life span of bearings.
3. The top of the caitridge with a movable structure, increase the balance of the upper and lower bearings, which mainly ensure avoid friction with the rear cover when the cartridge in a high-speed rotation condition.
4. The four grooves designed of cartridge make the excess gas smoothly discharge, to reduce the noise when the handpiece is working, and protect the normal rotor number of cutting.
Specifications:
Holes: 4 holes
Air pressure: 0.23(Mpa)-0.25(Mpa)
Rotor speed: 350000-400000rpm
Torque: 0.4(N)-0.45(N)
Water flow rate: 90ml/min-110ml/min
Working pressure: 0.2(Mpa)-0.23(Mpa)
Atomization pressure: 0.3(Mpa)-0.35(Mpa)
Noise: ≤65dB
Head Height: 13.45mm(with rear cover height)
Head diameter: 11.25MM
Cartridge height: 12.2MM(height of pressing shaft)
Cartridge diameter: 9.5MM
Chuck Type: Push Button Type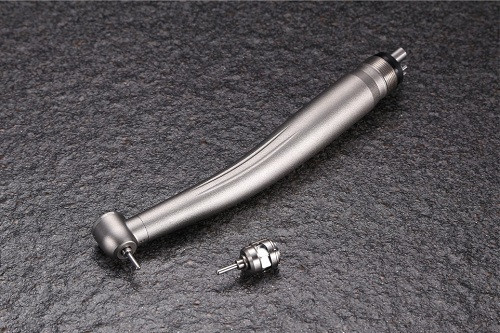 Looking for more
dental equipment
at dentalget.com