COXO® Endodontic Root Canal Treatment C-Smart-II

Features
1. Easy operating with wide LCD screen.
2. Original Switzerland motor.
3. Drive-1:1 contra angle is available.
4. Auto reverse to protect the file for the dental root canal treatment
5. Compact, stable, ergonomic design for easy handling.
6. High capacity Li-ion chargeable battery and can work with battery or adaptor.
7. Auto power off and memory function.
8. Adjustable torque, range: 0.3-4.0N.cm(3-40mN.m).
9. High resolution, LCD display.
10. Battery power is indicated on the LCD screen.
11. Adjustable rotational speed, ranging from 125 to 625rpm.

Specifications
Power Supply : AC 100V-240V or DC Rechargeable Battery
Adjustable Rotation Speed: Ranging from 125 to 625rpm
Display Mode : Folding LCD Screen
Weight : Approx800g
Adjustable Torque: Range from3-40mN.m
Current: <500mA

Package With
Root-canal Treatment Main Unit x 1
Foot Switch x 1
Contra Angle Handpiece x 1
Motor Handle x 1
Built-in Rechargeable Battery x 1
Power Adapter 100V-240V x 1
Handle Base x 1
User Manual x 1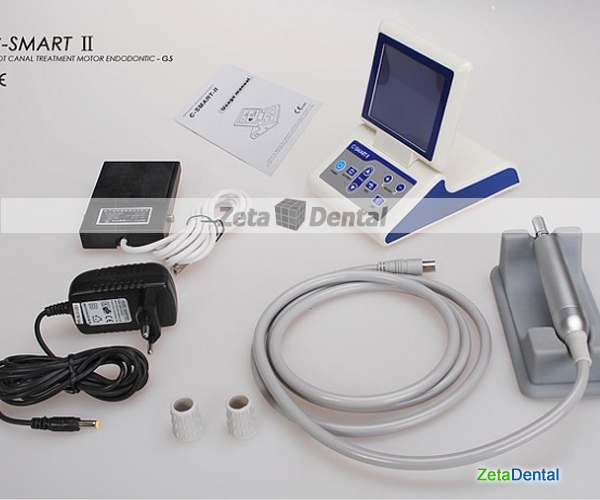 Looking for more
dental equipment
at dentalget.com