Magenta® Teeth Whitening Bleaching System LED Light MD669


Features
1. High efficiency goose pipe design, adjust angle at random, convenient for use.
2. Conbination of high power blue led.
3. Tunable bleaching time with microprocessor-controlled time persets.
4. Digital indicator with audio feedback.
5. Smart auto-select power: 100 to 240 Volts, AC.50/60 Hz for global use.
6. High speed multi-arch teeth whitening system.
7. Small base sized design, suitable use in dental clinic.
8. High umiformity of light output.
9. High sensitive infrared remote control setting fuction.
10. Enclosed disposible sheath, prevent cross-infection, clean and convenient, let patient feel relieved.
11. 6 powerful LED tubes emit a high intensive cold blue light with an output at 6000 MW/CM2.
12. Special design, innocuous silica gel muzzle, make sure stopping intersectional infection.
13. The new model of power supply make sure steady power output and long-time continuous working even in some cities and places with mutative voltage.
14. Time display of the teeth whitening machine could shows treatment time to help dentist master treating time and progress and reduce the waiting time of patient.

Specifications
Power supply: AV220V±10%, 50HZ
Broad spectrum: 420nm-500nm (Host Lamps)
Power: 300W
Light size: 18x74mm2
Power density: more than 60MJ/CM2
Light Output Power: up to 2000 mw/c㎡
Light timing: 0-20 mins
Max. Working Raduis: 50cm
Power instability: lower than1%
Working method: time output & continuous working
Coupling: polyester mono-wave
Three LED light sources: Blue, Blue & Red and Red
Light source: 4~5 W blue LEDs & 2~3W red LEDs

Four choives of illumination
1. 100% full power output
2. 80% power output
3. 60% power output
4. 40% power output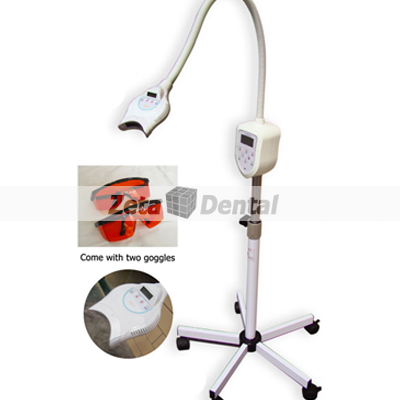 Looking for more
dental equipment
at dentalget.com